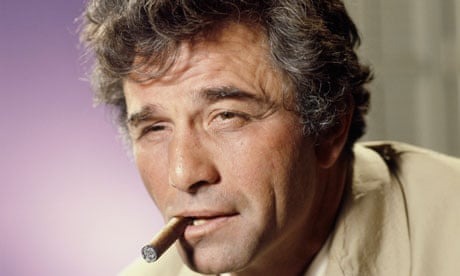 I have spent many an hour over the last few months watching Columbo. Peter Falk as the 'judging book by its cover', appearing to be, but never actually are bumbling, has been listed so many times as one of televisions greatest charactrs that I thought I would give it a try.
Won't lie, it's fun. It's really fun. There is a set of steps that every episode has that makes it easily digestable and, in some regards, if you've watched one, you've watched them all. At the beginning we see the murder, understand the motive, and we're off to the races where Columbo figures out everything we've just seen.
If there's a flaw, it's that he always is asking the right question (or the wrong question for the right reasons). His catchphrase of finishing only to 'oh.. wait.. one more thing' always leads to the suspect being stopped cold that maybe this shabby buffoon knows too much!
But, as a template that was on television for 30 years, it worked. Here's a quick list of some of my favorite episodes.
ETUDE IN BLACK – I think this one is the general world's favorite. Maybe it's because the special guest is John Cassavetes playing an intense and monsterous conductor who kills his other woman. Sometimes the best Columbos are the ones where it just looks like Falk is having a good time in a strange place… this one fits perfectly
A STITCH IN CRIME – The reason this episode is amongst the best is not because of Falk at all, but because of a post-Trek Leonard Nimoy who plays an arrogant doctor who clearly loves being the best at everything. Come for the snide Spockless Nimoy, stay for the amazingly horrible 70s sweaters.
COLUMBO GOES TO COLLEGE – This episode is admittedly a bit silly, as the method of death is more MacGuyver than Columbo, but watching Falk run around a college campus and pretending he's dumber than these two smug college kids after they killed their professor is worth the price of admission.
THE SKY HIGH IQ MURDER CASE – For my favorite episode, it has to be the one where a bunch of brilliant nerds all gather in their nerdy clubhouse and nerd together. It's Columbo goes to Mensa, and it is one of the few times where you see Falk drop the facade of 'bad detective doing good' and really lets the killer see that he has been matched.
And hey… almost forgot… one more thing, have you ever watch Columbo? What's your favorite episode – sound off in all the usual places.