Hey all you Somethings!
We haven't talked much Music lately, and we're always looking to give listeners an insight into what makes us "Us", so I've compiled a list of 10 albums that, as a catalogue, speak volumes as to the person I am. In no particular order….
10 – Eat 'Em and Smile – David Lee Roth.  The year was 1986, and an impressionable PCR was just entering High School.  Between Yankee Rose (with Steve Vai's 'talking guitar', and the frequency of the video on MTV), Shy Boy, Tobacco Road and I'm Just a Gigolo.. this album quickly became one of the soundtracks of my High School years.
9 – Passion and Warfare – Steve Vai.  A second shout out on this list to Steve Vai.  Up until now, my musical interests had been rather… vanilla?  Commercial?  Mainstream?  Whatever the word, 1990 hit and this album caught my eyes and ears.  Liberty, Erotic Nightmares, The Audience Is Listening and The Animal spoke to 'college Rob' in ways other primarily instrumental music hadn't.
8 – Raising Hell – Run DMC.  I remember recording the Raising Hell concert off WBLS when they aired it live (Fun Fact : Beastie Boys opened for them.  More on that later).  Full transparency, I love EVERY Run DMC album, but this is the one that started that love for me.
7 – Disney's Robin Hood Album – Various.   I had this on vinyl.  I listened to it endlessly.  I can still quote 90% of the movie word for word in the accents.  Fight me.
6 – License To Ill – Beastie Boys.   The 'sampling' issue had been around for a while, but when License came out I was old enough to understand it.  Sampling from Led Zeppelin for Rhymin' and Stealin'  felt almost like… well… stealin', but the beats they dropped for other songs such as She's Crafty, No Sleep Till Brooklyn, and the rap/rock of Fight For Your Right. turned me in to a longtime fan.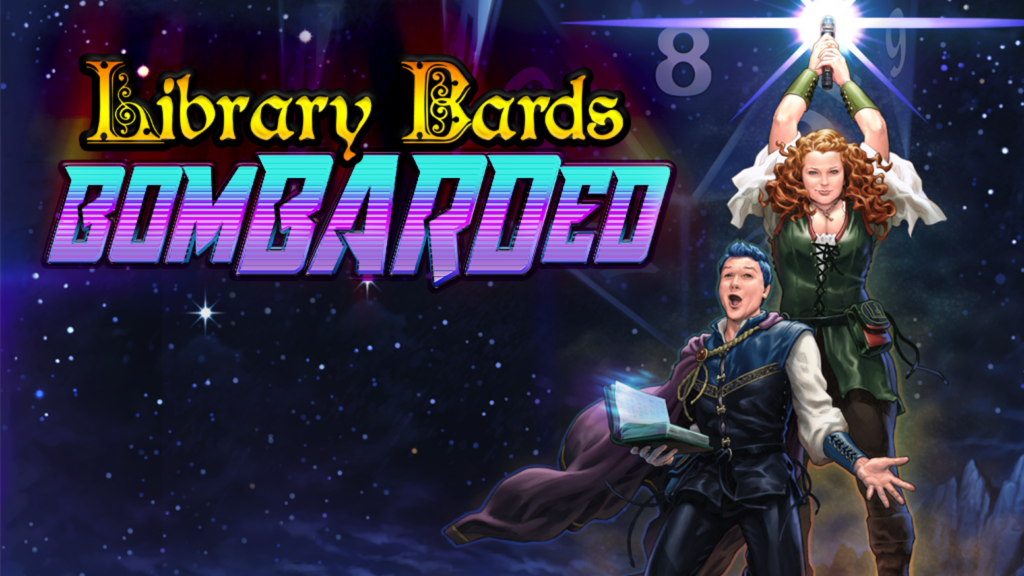 5 – BomBARDed – The Library Bards.  The story of how we met Bonnie and Xander has been told before, but meeting them in person was one of the best things this show has ever done, and we were happy to support both of their albums, the newest of which is BomBARDed which can be found at https://librarybards.bandcamp.com/
4 – Running With Scissors – 'Weird Al' Yankovic.  Much like Run DMC, I love ALL of Al's albums, but for my money, this is probably my favorite in no small part to seeing him live and watching him do The Saga Begins and All About the Pentiums live.  The man is an unstoppable force when performing live and it remains one of my top concerts ever.
3 – Appetite For Destruction – Guns n' Roses.  Not a bad song on the entire album.  My current workout jam.
2 – Un-Led-Ed – Dread Zeppelin.  Take a reggae band that does Led Zeppelin covers and give it an Elvis impersonator as a lead singer and you have this bit of genius.  First introduced to this band when it was background music at a party I was at, my brain kept saying "I know this song… but not… THIS.. song…".  Once I was able to focus, I was hooked.  Seeing them live (with Mojo Nixon and the Toadliquors) was hilarious.
1 – Sunshine On Leith – The Proclaimers.  This album was unexpected.  Originally purchased for one song and one song only (I'm Gonna Be (500 Miles)) the rest of this album I absolutely adored.  From Cap In Hand, My Old Friend The Blues and Sunshine On Leith showing off their soulful side, to Then I Met You and Oh, Jean being more raucous and rambunctious, this album is still a go to for me on long road trips.
Honorable Mentions.
Music From The Elder – KISS.  My favorite album from one of my favorite bands.
Sgt. Pepper's Lonely Hearts Club Band – The Beatles.  My top Beatles album.
Disraeli Gears – Cream.  For my money, the definitive Cream album.  
---
Every week, the Somethings will be giving you a little something extra, so please check back every week for reviews, lists, cool finds, and more!